Atlanta Health and Wellness Specialists
Elite Personalized Medicine is the leading functional medicine center in Peachtree Corners. With a range of services that includes chiropractic care, IV therapy, weight loss treatments and health coaching, we provide well-rounded health and wellness services focused on your individual needs.
Our team of health practitioners is made up of specialists within their fields. We use a collaborative methodology to offer you personalized treatments that help you meet your health goals. Whether you are just beginning your wellness journey or have experience with functional medicine, we are pleased to welcome you to our functional medicine center.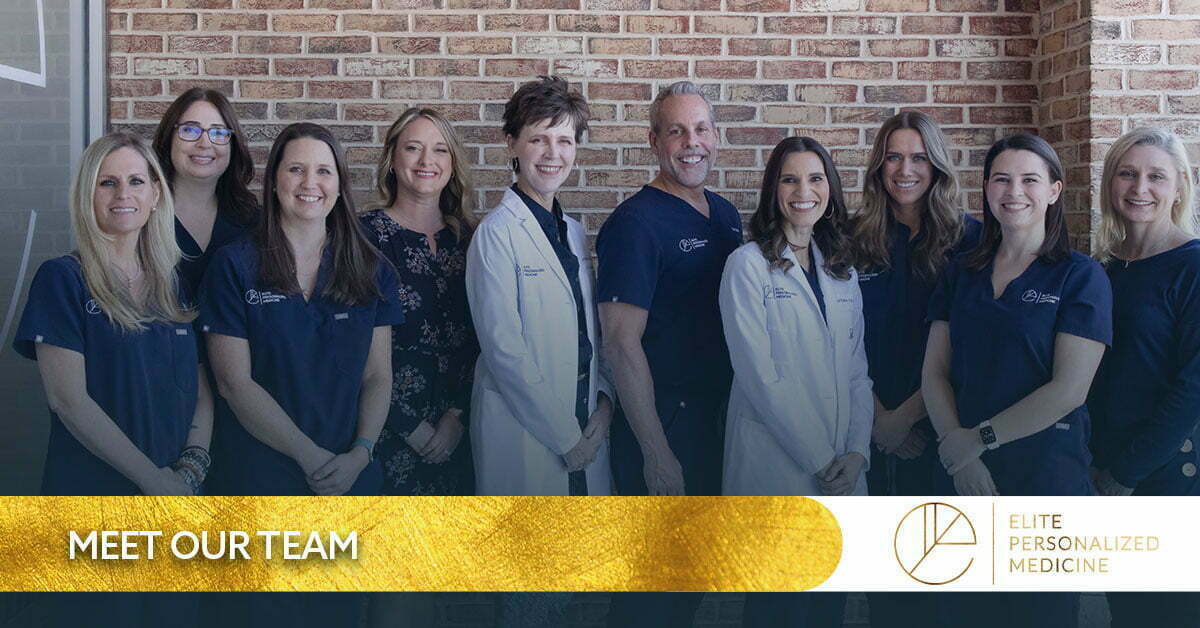 Personalized Medicine That Puts Your Well-Being First
When you visit our Peachtree Corners location, you can expect a holistic and patient-centered experience. To empower you to maintain good health we look closely at why you are experiencing certain symptoms, and determine where your health can improve. We do not simply offer medication to treat an illness – our team supports you in addressing the root cause of the problem.
Many people are reluctant to visit a primary care physician, as they feel they will not be fully heard or understood. At Elite Personalized Medicine, we do not follow the conventional doctor-patient approach. Rather, we use a personalized approach – one that is built on communication, rapport and trust.
Our Primary Medical Services
Chiropractic care is a non-surgical treatment that can deliver pain relief and increased mobility. Dr. Lee Strickland uses spinal and joint manipulation techniques to heal spinal misalignment issues. With many chronic health issues such as headache, back pain and shoulder pain being sourced to problems with the spine, joints and bones, this natural treatment provides many general wellness improvements.
Functional medicine aims to find the underlying cause of health issues and deliver personalized treatment plans. Using a patient-centered approach, our goal is to deliver complete wellness improvements rather than treating a singular disease. Functional medicine integrates a range of treatments, including health coaching, hormone replacement therapy and weight loss. This multidisciplinary strategy focuses on healing and creating a new outlook on a person's well-being.
IV therapy provides a tailored cocktail of vitamins and nutrients for increased energy, athletic recovery and many other benefits. At Elite Personalized Medicine, we use IV infusions and vitamin injections for fast and pain-free boosts in energy. When you are feeling drained and your immune system is weak, IV hydration and nutrition will give you optimal hydration and stronger immunity against illness.
Why Personalized Medicine Delivers for Our Patients
At Elite Personalized Medicine, we combine scientific advances in genetic and molecular profiling with conventional medical care to provide the highest level of treatment. Through lab work, analysis of your medical history and other methods, we can identify the reasons for sickness and disease. We can then create an individualized plan that is backed by the support of our expert team.
Skilled professionals – An elite team of highly-trained, caring and dedicated staff.
Personalized plans – Custom wellness plans created just for you.
Support and motivation – We assist your health progress with support and accountability.
Lifestyle education – We help patients build and maintain healthy habits.
Cutting-edge technology – Driven by a scientific approach to health and wellness.
Holistic care – Focusing on the person as a whole, not simply an illness.
Patient-focused care – Prioritizing patients and committing to long-term good health.
Contact Us for Wellness Treatments in Peachtree Corners
The team at Elite Personalized Medicine is available for chiropractic care, functional medicine, IV therapy and other health treatments. If you are located in Peachtree Corners, Atlanta and the surrounding cities, schedule a visit with our expert practitioners today. Call (770) 416-1070 or request an appointment now.