Leading Atlanta Chiropractic Treatment Service Provider
At Elite Personalized Medicine in Peachtree Corners, our chiropractor Dr. Lee Strickland develops chiropractic treatment plans that will relieve pain and improve your overall wellness. Many patients travel from across the Atlanta area to obtain Dr. Lee Strickland's chiropractic care services.
Dr. Strickland works with people to target the cause of their pain. With appropriate treatment, this allows patients to live healthy, fulfilling lives. Using an integrated approach, we combine chiropractic treatment, functional medicine and health coaching to alleviate pain, improve function and prevent future injuries.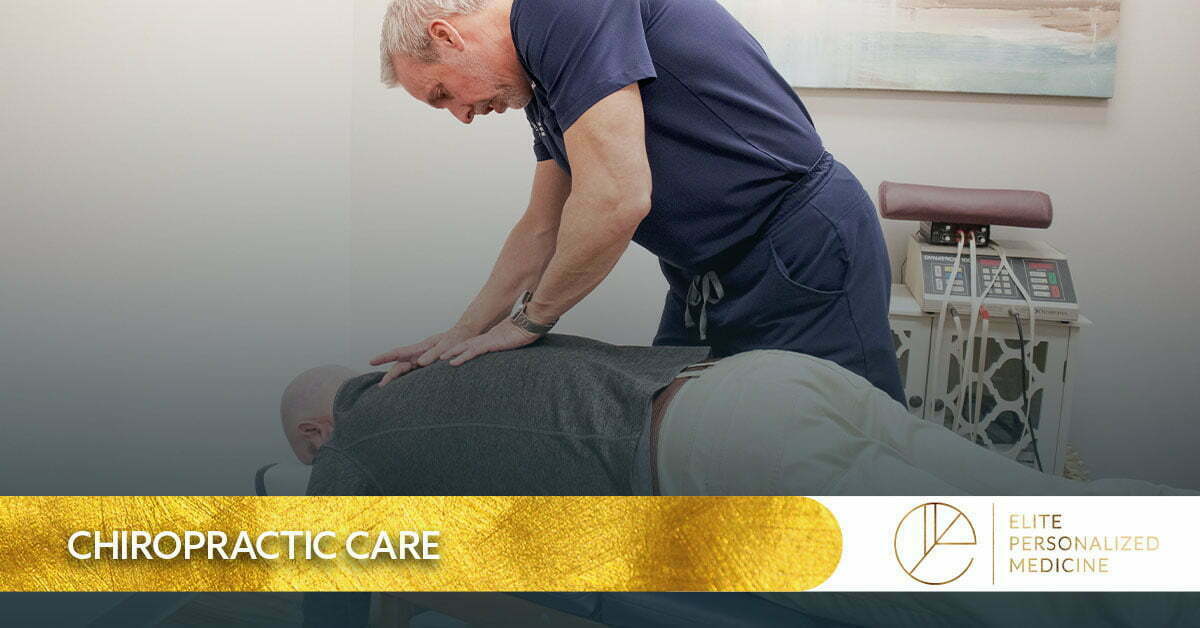 Personalized Chiropractic Exam and Treatment Plan
Chiropractic care is a non-invasive, natural treatment that targets pain at its source. Many individuals and families that suffer from debilitating back pain, neck pain, shoulder pain, migraines, muscle strains and other similar conditions visit Elite Personalized Medicine for help. In many cases, the source of these issues is a misalignment of the spine and musculoskeletal system – the bones, muscles, joints, tendons, cartilage, ligaments and other connective tissue.
Effective chiropractic care involves diagnosis and treatment of these alignment problems using spinal and joint manipulation. Using the hands to adjust misalignment issues, our chiropractor ensures patients can experience a better range of movement with reduced pain and less inflammation. Chiropractic care works with the body's natural ability to heal itself, often reducing the need for surgery or medication.
The Health Benefits of Chiropractic
Alleviates chronic pain
Improved range of motion
Reduces muscle tightness
Can reduce the need for medication
Improvements in sleep patterns
Better blood circulation
Assists with mental health challenges
Overall wellness benefits
An Overview of Our Chiropractic Treatments
Back Pain
Back pain is a common issue. It can result from sports injuries, strains, accidents and even bad posture. Patients may also suffer from sciatica – a shooting pain that travels from the lower back and down the leg or legs. In response, a chiropractor will manipulate your joints and soft tissue to improve spinal alignment.
Shoulder Pain
The shoulder is a complex joint that can experience a wide range of injuries. Rotator cuff tears, dislocation, frozen shoulder, impingement and cartilage tears are just some of the common injuries. Your chiropractor can identify the source of the issue and provide effective treatment, including strengthening exercises that aid with rehabilitation.
Repetitive Strain Injuries
Repetitive strain injuries (RSI) can be caused by continuous movements like using a mouse, typing and playing sports. Chiropractic care for RSI involves addressing the joints and removing soft tissue strain to allow a better range of movement.
Disc Injuries
Disc injuries, such as a herniated disc, can be caused by lifting heavy items, repetitive movements, genetics, aging and other factors. Chiropractic care can relieve much of the pain of a disc injury by manipulating the spine and using other techniques to take pressure off the disc.
Additional Conditions Chiropractic Care Can Treat
Head and neck pain, including pain caused by headaches, migraines and whiplash
Family chiropractic care to treat children's chiropractic issues, scoliosis, vertigo and ear infections
Pain in the arms and legs from carpal tunnel syndrome or other causes
Patient Consultations With Elite Personalized Medicine
Pain, discomfort and limited range of motion can be caused by many factors. At Elite Personalized Medicine, we provide a personalized care plan for each of our patients. Dr. Strickland will help patients take a holistic approach that delivers long-term health benefits.
During a consultation, we will discuss your medical history and conduct a physical examination. It may also be necessary to perform an X-ray or scan to assist with treatment. Subsequently, Dr. Strickland can apply controlled pressure to your joints to adjust spinal misalignments. In addition, a custom plan involving diet, exercise, additional therapies and other techniques can be provided for long-lasting effectiveness and good health.
Common Questions About Chiropractic Care
Some common chiropractic techniques include manual chiropractic methods like the Diversified Technique and spinal decompression, along with treatments that use instruments, such as the Activator Method and Graston Technique®. In addition, patients may benefit from therapies that make use of heat, ice, or electrical stimulation.
Many patients feel pain relief after their first chiropractic treatment with Dr. Strickland. However, chiropractic care aims to provide long-term improvements in health and wellness. To reach these goals, posture adjustments and other lifestyle changes will be recommended to help ensure an overall improvement in a person's daily life.
Yes. Chiropractic care is a useful approach to dealing with ongoing chronic pain that has lasted for six months or more, as well as acute pain caused by injuries, sprains and other accidents.
Personalized Chiropractic Care for Peachtree Corners, Atlanta & Beyond
Dr. Lee Strickland works with patients in the Atlanta area to develop their personalized chiropractic care plan. At Elite Personalized Medicine, our team will deliver the highest quality wellness treatments to meet your health needs. To schedule an appointment, call our Peachtree Corners functional medicine center at (770) 416-1070 or request a consult now.